Das Kilians Irish Pub ist seit über 22 Jahren ein wichtiger Bestandteil der Münchner Live-Musikszene. Fünf Tage die Woche haben wir verschieden Live-Bands auf unserer Bühne Solo-Künstler oder Duos spielen meistens am Montag und Mittwoch, größere Bands am Donnerstag, Freitag und Samstag Dabei decken wir jeden Musikgeschmack ab:
Irish folk, pop, rock, rock 'n' roll, funk, RnB and many other styles of music make our guests get up and dance.
Für alle, die kein Instrument beherrschen, empfehlen wir unsere Karaoke-Abende.
Die Live-Acts stehen bei uns ab 21:00 Uhr auf der Bühne.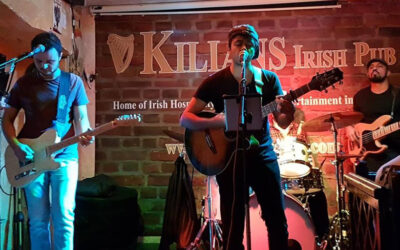 Nur für Band-Buchungen:
rufen Sie Frau Monika Spörl unter Tel. 089 / 33 08 81 96 – während der Bürozeiten an
Nur für Band-Buchungen, keine Tischreservierungen!